Hulu Plus comes to Wii, a 3DS Ambassador game becomes available for purchase, and the Wii Virtual Console drought come to an end.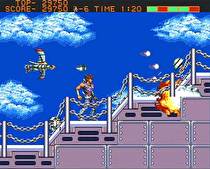 Nintendo has a wealth of downloadable goodies this week, including the first Wii Virtual Console game in over five months. In addition to games, the streaming video service Hulu Plus is now available for Wii.
The Sega Genesis version of Strider is coming to Wii Virtual Console today. It is the first Wii Virtual Console release in North America in the past 175 days. The last release was The Ignition Factor on August 25, 2011. Strider is available for 800 Wii Points.
Wii is also getting Hulu Plus, which is available for free download for paying subscribers to the service. Hulu Plus features the latest episodes of TV shows, movies, and more. Subscriptions start at $7.99/month. Hulu Plus will be available on 3DS later this year.
On 3DS, Super Mario Bros. for NES is the first Ambassador game available for sale in North America. Available for $4.99, the re-release of the classic game features two-player alternating multiplayer and save states.
As previously reported, the Metal Gear Solid Snake Eater 3D demo is hitting the eShop free of charge. Players can try the game out before its February 21 release.
Lastly, iSpot Japan is out on DSiWare. This $2 application is made up of "Spot the Difference" games featuring Japan locales.