Along with the message comes a special Valentine's themed stationery.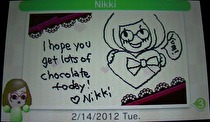 Nintendo wished 3DS owners a happy Valentine's Day today with the help of Swapnote and its quirky mascot, Nikki. Along with the special, gold message, Nintendo included a special Valentine's Day stationery. Furthermore, Nikki's Mii has also been added to the StreetPass Mii Plaza.
In order to receive the stationery, just open the message from Nikki and it will be automatically added to your collection. Alternatively, the stationery can also be obtained using the same method from your 3DS friends who send messages with the stationery.
Unlike the New Year's stationery that was only available in Japan, this one is available in all regions.