The bugs are now gone.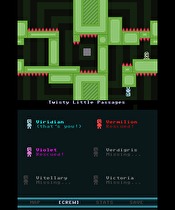 A bug free version of VVVVVV is being sent to NOA and NOE this week, according to posts made on Nicalis's Twitter.
The Tweet read, "Hey Europe, we fixed one last bug (Gravitron, you bastard) and your version of VVVVVV is getting to Nintendo this week," while later the company posted that an updated version is being sent to NOA as well. In the version released in North America, activating Flip Mode results in a pair of black screens.
There is currently no word on when the game will officially be launched in Europe or when the updated version will land in America.