The new DLC is for a 3DS photo editing app.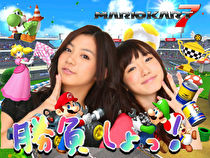 Nintendo has released their first paid DLC on the Nintendo 3DS for a photo editing app called Tobidasu Print Club Kiradeco Revolution. The app was originally released back on December 27, 2011.
Three new photo decoration sets are available for download. There is a Mario Kart 7, Spring Trial and Mario Basic set, which each sell for ¥100 and include various frames, backgrounds and stamps.