Eight new songs will be coming as paid DLC to Theatrhythm.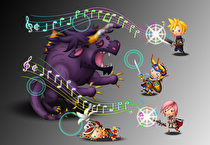 The first set of downloadable songs for Theatrhythm: Final Fantasy has been revealed. The songs will be priced at 150 yen (approximately 2 dollars per song), and have been divided between battle and field stage songs. The songs are as follows:
Battle stage songs:
Final Fantasy II: Battle Scene 1
Final Fantasy IV: The Final Battle
Final Fantasy XI: Fighters of the Crystal
Final Fantasy XIII: Fighting Fate
Field stage songs:
Final Fantasy V: Seeking the Light
Final Fantasy VII: Cosmo Canyon
Final Fantasy VIII: Ride On
Final Fantasy X: Someday the Dream Will End
In total, the song list will set Japanese players back 1,200 yen (around $15.60 in American dollars). New songs for the game will be released every two to three weeks and won't be limited to mainline Final Fantasy games.