Nintendo will be offering two talks, one on the creation of Super Mario 3D Land.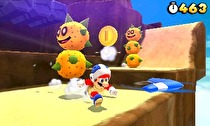 Nintendo will be offering two talks at this year's Game Developers Conference, which will take place on March 5 through 9 in San Francisco's Moscone Center.
The first of these sessions is "Thinking in 3D: The Development of Super Mario 3D Land." The talk will detail how the development of the hit 3DS title came to be, as well as teach developers how to properly use the 3DS's 3D capabilities as well as the difference between 2D and 3D gameplay. The talk will be given by game director Koichi Hayashida on Wednesday, March 7 from 3:30 - 4:30 in Room 132, North Hall.
The other discussion Nintendo will be participating in is "Existential Crisis: Do We Really Need AI?", a panel about the importance of AI in video games. While not specifically Nintendo-centric, Steve Rabin, Principal Software Engineer for Nintendo of America, will take part of the presentation. Rabin is an AI veteran who has worked on DS, Wii, 3DS, and Wii U development tools. The panel will happen on Tuesday, March 6 from 5:05 - 5:30 in Room 2006, West Hall.
Finally, a map of the expo floor has revealed where Nintendo will be placing their booth. According to the map, Nintendo's booth will be placed near the entrance of the expo.