Skylanders Giants adds 20 new characters, including giants named Tree Rex and Alchemist.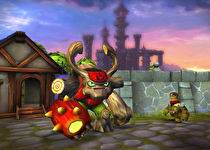 Skylanders Giants, a sequel to the popular Skylanders: Spyro's Adventure, is coming out this fall, Activision announced at Toy Fair today.
The biggest addition to the game are the giant characters, which are approximately double the size of regular characters and also light up when near or on the Portal of Power. As of now, there will be eight of these new characters added, along with eight new regular-sized Skylanders. Curiously, the revealed information also says there will be 20 new characters in total.
Every character from the original Skylanders is 100% forward compatible, and players will be able to experience brand new gameplay ranging from new Hero Challenges to new multiplayer modes.
Unfortunately, the status of the 3DS version of this game is unconfirmed. It is definitely coming to Wii, Xbox 360, and PlayStation 3, but Activision has neither confirmed nor denied the status of a possible Vicarious Visions-developed 3DS version.
Skylanders Giants is coming out this fall. The only price mentioned so far is $69.99 for a starter pack.