Gamers in Japan can pick up where they left off from the demo.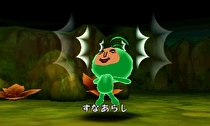 The retail version of Denpa Ningen no RPG, the latest work from Genius Sonority Inc., will be able to incorporate save files from the recently released demo version. The demo, which can last from anywhere between 30 minutes to an hour, informs the user that upon saving, their data can be implemented into the final retail version if they decide to purchase it.
Denpa Ningen no RPG releases on the Nintendo eShop in Japan on February 8.