Upcoming eShop RPG gets demo today in Japan.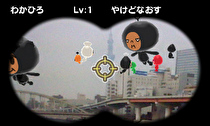 Denpa Ningen no RPG marks the first eShop downloadable title to receive a demo on the Nintendo 3DS. While the Wii saw demos for downloadable titles, up to this point Nintendo has only released demos for retail titles on their 3DS online shop.
The title, which releases next week on February 8 in Japan and retails for 800 yen, is an RPG where you must search for, catch, and proceed on an adventure with humans who are trapped floating around on radio waves. Currently, there is no scheduled release date for Denpa Ningen no RPG outside of Japan.