The two biggest 3DS releases could be expanded upon.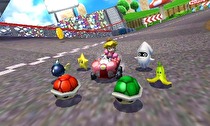 Nintendo President Satoru Iwata mentioned the possible idea of paid DLC for their big-name releases at their Corporate Management Policy Briefing/Third Quarter Financial Results Briefing.
Iwata explained, highlighting Super Mario 3D Land and Mario Kart 7, how some existing titles could have potentially strong lifespans and how it could benefit Nintendo. Regarding the question of whether players would get bored of their games, Iwata said "What if we could provide add-on content through the network?" Iwata explained that this initiative would provide new profit for the company by further extending the replay value of existing titles, thus reducing the notion of a game being "old." He used Super Mario as an example of how new levels could be added. He also mentioned that a title like Wii Fit Plus could simply be an update to Wii Fit with their new network infrastructure.
The recently announced 2D Mario game for the 3DS may also benefit from the DLC initiative, but nothing was confirmed by Nintendo.