The downloadable RPG allows you to create parties by pointing the 3DS at people.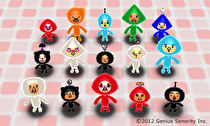 Genius Sonority, the development team behind the Pokemon Colosseum games, has announced a new RPG for the 3DS eShop called Denpa Ningen.
Denpa Ningen (which translates to Radio Wave People RPG), is a game in which the 3DS's augmented reality features are used to generate different RPG party members. When the player points the 3DS at their surroundings, they will be able to generate small people called the Radio Wave, who will then be available for capture and later used to explore dungeons.
Each Radio Wave person has different abilities that they will bring into battle. The main objective is to form a party and fight a demon king that has kidnapped an important character. The full game is set to be released February 8 on the Japanese eShop for 800 yen (around 10 dollars). A demo of the game, however, will be released tomorrow, February 1.