The musical Final Fantasy adventure gets a second demo before release.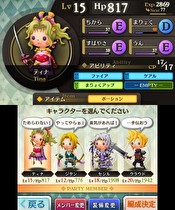 Square Enix's Theatrhythm: Final Fantasy is getting a second downloadable demo on February 1.
The demo will contain two songs from the 3DS title: "The Man with the Machine Gun" from Final Fantasy VIII and "The Sunleth Waterscape," the field theme from Final Fantasy XIII. Tetsuya Nomura, director and designer of multiple Square Enix titles, confirmed the demo in several interviews.
Theatrhythm will be released in Japan on February 16. No release details for other regions have been announced.