A special edition bundle and a 10th anniversary set are also on the way.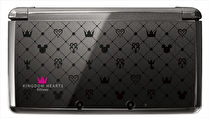 Kingdom Hearts 3D: Dream Drop Distance will be released in Japan on March 29, Square Enix recently announced. Previously Square Enix had only said that it would come out in March of this year.
Square Enix also announced a special edition 3DS bundle to go along with Kingdom Hearts 3D's release. The 3DS will feature decals based on the series. Price for this bundle has not been announced.
In addition to the bundle, Japanese gamers will also be able to buy the Kingdom Hearts: Tenth Anniversary Box has been announced, however it isn't clear what content the box includes.
Lastly, the first print of the Kingdom Hearts 3D will come with a special AR card that unlocks a rare Dream Eater character.