Japanese gamers will get the chance to play the game this April.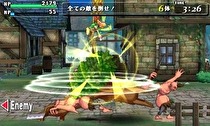 Code of Princess is set to release on the Nintendo 3DS in Japan on April 19.
This side-scrolling brawler, developed by Agatsuma Entertainment, features 4 playable characters as well as characters designed by Kinu Nishimura (Nine Hours, Nine Persons, Nine Doors). Fans of Guardian Heroes should also rejoice because the game is designed by the same team.
There is currently no announcement regarding a western release of the game.