Disney's most ambitious animated film sees representation in the upcoming game.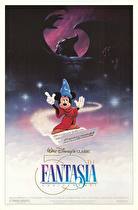 A world based on Walt Disney's third animated film, Fantasia, will be making an appearance on Kingdom Hearts 3D, the latest issue of Jump confirmed.
Titled Symphony of Sorcery, the world features Mickey Mouse in his iconic Sorcerer's Apprentice outfit on screenshots published by the magazine. Other screenshots seen in the magazine include Mickey Mouse conducting an army of magical brooms and notes flying around the screen.
It wasn't clear whether the world is based on just the Sorcerer's Apprentice segment of the film or if there will be other areas inspired by the other musical segments. In addition to the new world reveal, Jump also showed off artwork of Sora in an outfit based off of TRON Legacy, which an earlier trailer revealed to be a world in the game.
Elements of Fantasia have been featured in previous games, such as the magical brooms and the devil Chernabog. Master Yen Sid, a character that appears on the Sorcerer's Apprentice segment, is one of the most important characters in the Kingdom Hearts storyline.