December has been a great month for downloadable games.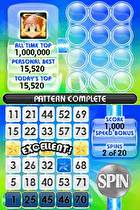 Today the Virtual Console sees the release of five new games spread across Nintendo's several downloadable game services...and no Virtual Console games for Wii.
The first is one of the biggest release of this week for the eShop: VVVVVV by Nicalis. The game is a platforming adventure where gravity plays a role in the exploration of the worlds. The objective is to find the main character's crew members featuring a style inspired by classic 8-bit games. VVVVVV can be downloadable for $7.99.
Next for the eShop is Capcom's Bionic Commando for the Game Boy. The 1992 release of the grappling hook based title plays similarly to the NES classic in which you used the grappling hook to complete the various challenges ahead of you. Bionic Commando is available now for $3.99.
Up next in the game list is Cake Ninja from Cypronia. The quirky objective behind this title is that players use their ninja skills in order to cut cakes into smaller pieces. The more cakes you slice the more points you will rack up. Cake Ninja can be downloaded for the 3DS and DS for $4.99.
Slingo Supreme is the fourth game in this week's update. Developed by Magelian Interactive, Slingo Supreme is a puzzle title game in which players must line up different slingos in order to score the highest point possible. It is available now for $7.99.
The last game for this week is Carmen Sandiego Adventures in Math: The Big Ben Burglary. Marking Carmen Sandiego's second appearance on WiiWare, The Big Ben Burglary follows the same style of gameplay established in the first game. Players will solve different math problems in order to try and nab the international thief. It is available now for 600 Wii Points ($6.00).
And as it has been the norm now, no Virtual Console game makes an appearance on the Wii Shop.