Mighty Switch Force and Tetris lead the charge, and Swapnote comes out to no fanfare.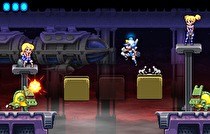 Mighty Switch Force and Tetris for Game Boy are the two big 3DS-exclusive releases this week, along with Swapnote, the message-sending application that also came out in Europe and Japan this week.
In addition to three games mentioned above, three DSiWare titles, a WiiWare game, and a WiiWare demo hit the shops this week.
The biggest title of the week is Mighty Switch Force, the third entry in WayForward's Mighty series (the other two are DSiWare games). Taking control of a female cop, you go through multiple levels of 2D puzzle-platforming fun to capture criminals and save the day. You can read our impressions of the title for more information. It is available for $5.99.
On Virtual Console, the high-selling Game Boy version of Tetris is hitting virtual shelves. This is the version that more or less took the world (and Nintendo's handheld) by storm. Relive the mayhem with this primitive but still great version of Tetris for $3.99.
The three DSiWare titles run the gamut from puzzles to chiptunes to vampires. Doodle Fit, from DSiWare veterans Gamelion, is a puzzle game where you have to fit in Tetris-esque shapes into different areas that resemble sprites. The game is also out on iOS, Android, and PSN, where it is cheaper than the $5 price tag it carries on DSiWare.
CINEMAX brings Rytmik Retrobits, an $8 application for the 3DS/DSi that lets you create chiptunes. It's the next entry in a series of Rytmik games that let you create music using the interface of the DS.
The final portable download game of the week is Teyon's Chronicles of Vampires: Origins. Despite the promising name, this is just the first episode of a hidden object game about vampires. For $5, you can check to see if this is more Team Belmont or more Team Edward.
On WiiWare, Gnomz, a surprisingly fun game in a similar vein as Mario Bros., has a demo available, and Soccer Up, from developer Enjoy Up, hits the store for 500 Wii Points. If you couldn't tell, it's a soccer game.
For the record, we have gone 119 days without a Wii Virtual Console game in North America. In Europe, the people who have been counting that number have likely gotten bored and died.