The free Nintendo messaging app is coming this week.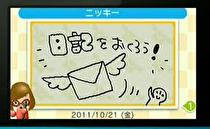 Nintendo's 3DS messaging app, Letter Box will be available in Europe for free starting Thursday, December 22.
Letter Box is Nintendo's first messaging app on the 3DS. Reminiscent of a souped up PictoChat, it utilizes StreetPass and SpotPass functionality to allow users to share messages, drawings, and photos with their friends.
Although there is currently no information regarding its North American release, it's likely to be available this week under the name Swapnote. The software is already available in Japan under the name Itsu no Ma ni Kōkan Nikki. Videos from that version are embedded below.