The latest 3D Classic title is available for free for a limited time.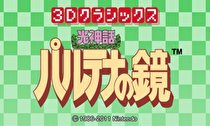 3D Classics Kid Icarus is available today in the Japan eShop. Nintendo 3DS owners who registered two games after October 1 (and until January 15) are eligible to download the latest 3D Classic for free.
In order to get the game on your 3DS, users must first log in to their Japanese Club Nintendo accounts and choose 3D Classics Kid Icarus from the "Original Goods" section of the website as a prize. The game is listed for 0 points after registering two games with Club Nintendo. After selecting it, users are then given a code which they can enter in the eShop options menu to download the game for free. Users who register 2 or more titles are also entered into a contest to win a special Mario themed 3DS system through what is called the "Chotto Mario na Nintendo 3DS Present Campaign" in Japan.
3D Classics Kid Icarus is available for free to users who register two games until January 15 11:59 PM. Starting January 18, the game will be available on the Japan eShop for 600 yen.