While no demo is playable at Jump Festa, the beta is almost here.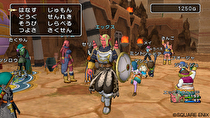 A Q&A event at Jump Festa revealed a few details about the upcoming Dragon Quest X, including when the beta is expected.
Game producer Yosuke Saito and director Jin Fujizawa both attended the event and revealed some information regarding the release. Six job classes will launch with the game. Additional jobs will likely be added via updates after launch. When pressed on the differences between the Wii and Wii U versions Saito stated that both versions of the game will be fun, but the Wii U's version will be "extremely beautiful." He also noted that those that own two systems can have a friend can join them.
The game's beta period will be around the "time period of chocolate," according to Saito. Those that are eligible for the beta can most likely expect this means around Valentine's Day or White Day (February or March).