The 3DS also sees great benefit from its release.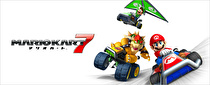 Mario Kart 7 sold 420,000 copies since its first release, while the 3DS is close to selling 3 million units, Nintendo President Satoru Iwata told Japanese newspaper Nikkei.
Iwata noted that the 3DS has seen great momentum ever since the company lowered the price of the handheld back in August, while also explaining that one of the reasons for high hardware sales and low software sales was that gamers were preparing for upcoming game releases. Nintendo expects to sell four million units by the time its first anniversary of its release approaches.
Talking about Mario Kart 7, Iwata mentioned that it sold 420,000 units in its first week in Japan, while noting that they also expect similar success in North America and Europe. The holiday sales rush was mentioned as a driving factor behind the sales.
Iwata concluded by stating that while they are expecting a loss in the current fiscal year, they expect the next year to be one of recovery.