Dr. House gets jolly with Christmas puzzles, and Master Higgins makes his 3DS Virtual Console debut... and still no Virtual Console game for Wii.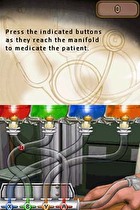 In what seems to be a light selection this week, four new games have been added to Nintendo's downloadable game services, primarily the eShop and DSiWare.
The only Virtual Console game out this week is for the eShop: Hudson Soft's Adventure Island. Originally released for the Game Boy in 1991, it is a handheld rendition of Adventure Island II for NES. It can be downloaded for $3.99.
Dr. House returns for a fifth time to the eShop and DSiWare in House M.D. - Episode 5: Under the Big Top by Legacy Interactive. Once again, players solve health-related mysteries, with the main objective to lives. This time, though, Dr. Gregory House is taken to the circus. The game is available now for $7.99.
The other DSiWare/eShop title for the week is Double Bloob from Bloober Team. Double Bloob is a vertical shooter arcade game in which players must rescue a dolphin from the clutches of an evil alien race. The game can be downloaded for $4.99.
The lone WiiWare game for the week is Xmas Puzzle from EnjoyUp games. The 500 Wii Point title ($5) is all about solving puzzles and re-creating jolly Christmas scenes for up to four players.