The Nintendo Experience is once again hosting a gaming gathering in Melbourne.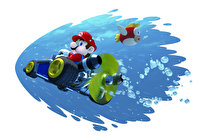 The launch of Mario Kart 7 is being celebrated at The Nintendo Experience, the upstairs loft and gaming galleria at EB Games on Swanston St. in Melbourne.
This Saturday, December 3, players are invited to strap on their racing helmets and attend a Mario Kart themed party from 9 a.m. until 2 p.m., where they can try out the new game and compete in mini tournaments and trivia contests for prizes. Those who don't already own a 3DS will be provided with a handheld for the event, so even those on the fence about the 3DS are still welcome to come along.
Mario himself is promised to make an appearance for photo opportunities as well.
The Swanston Street EB Games store has become noteworthy in recent years for holding extravagant events, competitions and midnight parties in celebration of highly anticipated Nintendo game releases, and just last week hosted one such launch for Super Mario 3D Land and The Legend of Zelda: Skyward Sword with a massive turnout.