The more you hear of it, the more unfamiliar it sounds.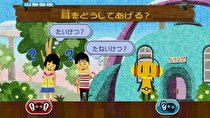 Details on Kiki-trick, a Nintendo-published Wii title, have been revealed by several retailers.
Nintendo announced the game quietly at the Nintendo Direct Conference back in October. Very little was known about the game, but as its release date approaches, details are appearing on game shop sites.
According to them, Kiki-trick will be a compilation of multi-player oriented mini-games featuring speech sounds, characterized as a "mishearing feeling" game everyone can enjoy. The following mini-games have been revealed:
Listening to "wonderful voices": They sound like noise at first but suddenly begin to sound like a human speech.
"Noise and its associates": Players try to comprehend variously processed voices with the help of letters and contexts.
Mimi ('ear') pro: Players try to follow voices in eight difficult situations, such as in a noisy place or while the speaker is laughing.
Kikitori battle: This is a competitive multi-player mode up to four players consisting of five games, such as Soramimi ('mishearing') karuta, where you grab from a set of cards displaying aurally similar words (American English example: metal or mellow), the card that corresponds with what the "wonderful voice" has said.
Sound goods: 15 unlockable weird contents featuring sounds.
Except for "Sound goods," the mentioned games support up to four players. Kiki-trick will be released on January 19, 2012, at 5,800 yen in Japan.