Japanese players can download this platformer next week.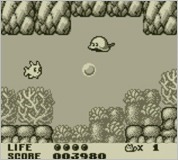 Next week's Japanese 3DS Virtual Console title is the Sunsoft-developed Game Boy title Trip World.
This platformer puts players in control of the rabbit-like creature Yacopu. Players join Yacopu as he swims underwater, takes to the skies, or walks across five different stages, each of which includes its own boss fight. The enemies in Trip World are not aggressive and will not deal damage unless provoked by the player.
Trip World was never released in North America, and it is unknown as to whether or not this 3DS Virtual Console title will see a release here.