Shin'en's Nanostray follow-up was supposed to come out today.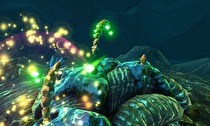 Nano Assault, which was set for a November 22 release, isn't coming out quite yet, according to publisher Majesco.
"The game was pushed back and is not available yet," a representative from the publisher said today.
Developed by Shin'en, Nano Assault is a shoot-'em-up for 3DS. It is one of seven 3DS games Majesco is publishing this holiday season.
Retailers, such as GameStop and Amazon, currently list Nano Assault as coming out on December 1, which, considering that isn't a typical release day, is probably just a placeholder.