A familiar locale and a brand new one await fans of the Kingdom Hearts series.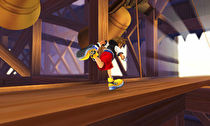 Two new Disney locations were revealed for Kingdom Hearts 3D: Dream Drop Distance which come from Pinocchio and the Hunchback of Notre Dame.
Pinocchio's world, entitled Pranksters Paradise, is set in the belly of a whale. Here, players will encounter characters like Pinocchio and Jiminy Cricket. The world featuring The Hunchback of Notre Dame is called La Cite des Cloches. Images, revealed in a recent issue of V Jump, show Sora encountering the character Frollo and other guards in the city. Artwork in the issue of V Jump also shows the character Esmeralda.
Other information revealed was the introduction of three new Dream Eaters. Two of the new Dream Eaters, Yagiphone and Hari Lion, are allies, while the Ice Penguin in an enemy.
Kingdom Hearts 3D: Dream Drop Distance is scheduled to be released in the first half of 2012.