Games on Wii U might make use of Epic's graphics technology.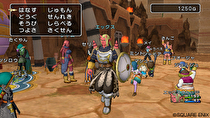 Epic Games announced an agreement with Square Enix to bring their Unreal Engine 3 to Square Enix's upcoming games.
No games were announced, however some titles being published by Square Enix are headed to the Wii U. Dragon Quest X, developed by Square Enix, is releasing on both the Wii and Wii U. Currently, information regarding the Wii U version of Dragon Quest X is slim, but Unreal Engine 3 may be powering development on the title.