First 3DS installment of Final Fantasy will come in February.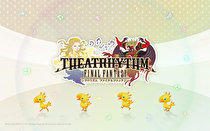 Square Enix announced on its official site that Theatrhythm Final Fantasy, a rhythm action game featuring music from the numbered Final Fantasy titles, will be released in Japan on February 16, 2012, and priced at 6,090 yen (about $79, as of today).

On the official site, gameplay footage is available, and you can listen to tunes playable in the game in Final Fantasy: A Historical Compendium (located under "characters," or the second option in the information bar). An overseas release of Theatrhythm Final Fantasy has yet to be announced.