The 3DS's major fall title is very effective in terms of sales.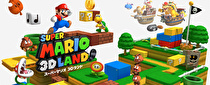 Super Mario 3D Land has sold 343,492 copies since its early November release in Japan, according to data by Media Create.
The 3DS's first major 3DS title has seen great success since it was released on November 3, 2011. This has also inspired a sales surge of 3DS units, which has seen a steady performance since it received its first price drop a few months ago. Media Create states that 145,271 units have been sold.
Several Wii titles have also seen solid performance in Japan. Kirby's Return to Dream Land (known in Japan as Kirby Wii), came in at number 5 with 55,779 copies sold. The Ubisoft developed/Nintendo published Just Dance Wii comes in at number 9 with 25,665 units sold. Namco's Go Vacation closes the top ten best sellers with 16,995 copies sold.
The full software and hardware sales charts are as follows:
01. [3DS] Super Mario 3D Land (Nintendo, 11/03): 343,492
02. [PS3] Uncharted 3 (Sony, 11/02): 124,989
03. [PS3] Battlefield 3 (EA, 11/02): 123,379
04. [PSP] Final Fantasy Type-0 (EA, 10/27): 122,286 (594,540)
05. [WII] Kirby Wii (Nintendo, 10/27): 55,779 (192,589)
06. [PSP] Winning Eleven 2012 (Konami, 11/03): 45,437
07. [3DS] Slime Mori Mori Dragon Quest 3 (Square Enix, 11/03): 38,859
08. [360] Battlefield 3 (EA, 11/02): 27,723
09. [WII] Just Dance Wii (Nintendo, 10/13): 25,665 (189,116)
10. [WII] Go Vacation (Namco Bandai, 10/20): 16,995 (89,463)
11. [WII] Winning Eleven Play Maker 2012 (Konami, 11/03): 14,117
12. [WII] Wii Sports Resort Wiiplus Pack (Nintendo, 11/11): 12,570 (638,091)
13. [PS3] Idolmaster 2 (Namco Bandai, 10/27): 10,721 (76,233)
14. [PS3] Winning Eleven 2012 (Konami, 10/06): 10,636 (381,156)
15. [PS2] Winning Eleven 2012 (Konami, 11/03): 9,786
16. [PSP] AKB1/48 If I Loved an Idol in Guam (Namco Bandai, 10/06): 8,883 (310,625)
17. [WII] Minna no Rhythm Heaven (Nintendo, 07/21): 8,581 (535,523)
18. [PS3] Macross F Sayonara no Tsubasa Hybrid Pack (Namco Bandai, 10/20): 8,352 (167,700)
19. [PSP] Naruto Narutimate Impact (Namco Bandai, 10/20): 7,144 (72,374)
20. [3DS] Model Fashion Audition 2 (Alchemist, 11/03): 6,643
Hardware sales:
1. 3DS: 145,271 (65,041)
2. PSP: 27,952 (30,605)
3. PS3: 26,966 (25,217)
4. Wii: 11,725 (11,784)
5. DSi LL: 2,041 (2,009)
6. X360: 1,699 (1,704)
7. PS2: 1,457 (1,228)
8. DSi: 1,057 (1,061)
9. DS Lite: 33 (55)