And the new characters gracing Mario Kart 7 are...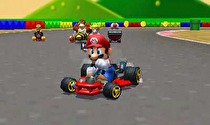 Nintendo Power has revealed the latest set of characters that will appear in the upcoming Mario Kart 7 for the 3DS.
The article reconfirms the appearance of Metal Mario, Shy Guy, Lakitu, and Miis, but also details two new racers. The first is Wiggler, the caterpillar enemy that first appeared in Super Mario World. The character has made playable appearances before, but this is the first time he appears in the Mario Kart series.
The second character is Honey Queen from Super Mario Galaxy. With the addition of the two new characters, the cast of racers reaches 17.