Go for the gold early next year.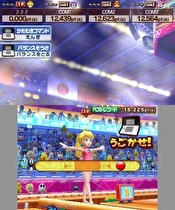 Sega's early 2012 3DS lineup for North America and Europe will include Crush 3D in January and Mario and Sonic at the 2012 Olympic Games in February, according to a recent announcement by the company.
Mario and Sonic at the 2012 Olympic Games is currently set for release on February 14 in North America and February 10 across Europe. In this title, you once again join the plumber and blue hedgehog as they compete for gold at the Summer Olympics. The game boasts more than 50 Olympic-themed games for players to compete in. The Wii version is coming out in November 2011.
The puzzle platformer Crush 3D, in which you solve puzzles while switching between the second and third dimensions, is set to hit shelves on January 10 in North America and January 13 in Europe. Created by Zoe Mode, the series debuted on PSP in 2007. Crush 3D was originally set for a September 2011 release, but was delayed to February 2012. The new release date boosts up the game by a month.
Additionally, Sega reaffirmed that Shinobi is hitting 3DS on November 15 in North America and November 11 in Europe, and Sonic Generations is coming to the system on November 22 in North America and November 25 in Europe.