Iwata stands on high and answers some eShop-related wishes.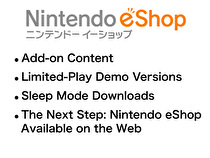 The Nintendo eShop will be accessible through the internet on PCs and smartphones soon, according to Nintendo President Satoru Iwata during the latest Financial Results Briefing.
Initially, the eShop will only be able to be browsed, with QR codes displayed, which can be used to quickly access the corresponding page on the 3DS using the system's camera. Eventually, purchases will be able to made directly from the web. Iwata hopes having the system available on the web will allow integration with social media.
Iwata also revealed more information about the eShop that seems to respond to a lot of people's complaints.
Publishers will be able to present limited-play demos soon. The exact restrictions of the demos was not clarified, but he mentioned a "limit on the number of trials." Additionally, the next system update, in November, will allow developers to post downloadable content (DLC) to the eShop, which can enhance previously downloaded software.
Lastly, users will be able to queue software downloads, which can then be performed in sleep mode, which is especially useful for larger titles.