A new Mario Kart channel, community features, and more!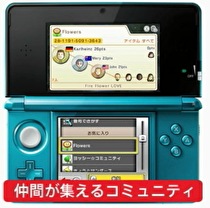 During the Nintendo Direct Conference today, as well as in an extended Iwata Asks video interview, game producer Hideki Konno confirmed that there will be 32 courses (16 brand new courses, 16 retro) in Mario Kart 7, and detailed all the new online features.
StreetPass
Mario Kart Channel will be in the game this time, unlike the Wii's separate channel in the system menu. StreetPass records, collected ghosts and more are accumulated there. StreetPassed Mii's can now be raced in Grand Prix mode. The AI reflects the player's racing style. You can also race with the player online and make him your rival.

SpotPass
Up to eight ghosts at once will be distributed via SpotPass. Players' best times in time attack mode are uploaded to Nintendo's server. The distributed ghosts are based on those player's ghosts. You will race in time-attack with up to 7 ghosts simultaneously, all with varying degrees of skill levels.
Online multiplayer
The game will support up to eight players online, and the frame rate is locked at 60fps. Nintendo have put more countermeasures to combat cheating this time around.

Community
One of the biggest new online features, players can make (or join) up to eight communities. The idea came from the fact people on message boards arranged online Mario Kart Wii games by exchanging friend codes, so Nintendo decided to make this process easier. Each community has a 14-digit ID that will give you access to the group.

Unlockable custom parts
Some machine parts are unlockable in single player, but there are some you can get by beating a StreetPassed ghost. Each ghost will hold a machine part that can be earned by beating it.