Retro-styled platformer will also include a selection of already made user-created levels.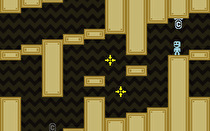 The 3DS version of VVVVVV is able to import levels from the level editor in the PC version of the game, Nicalis's Tyrone Rodriguez informed us.
While the "initial launch" of the 3DS version of the popular retro-styled platformer will not include its own level editor, it will allow you to connect to the PC version to play custom levels designed in its editor.
The 3DS title will also include a selection of pre-made levels built in the PC editor in addition to the main game. On its Twitter, Nicalis has put out a call for levels to be considered for the game's release.