There is no confirmed date yet, but at least we have a better idea of when it will arrive.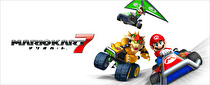 Last weekend at the EB Games Expo, Nintendo PR rep Jamie Wilson revealed that Mario Kart 7 for the Nintendo 3DS will likely be launching in Australia sometime in early December.
The reasoning for this is that if Nintendo releases the game too close to Christmas, they will likely reduce sales due to parents having already finished buying gifts.