What happens when Mario meets the feel good grooves of Just Dance?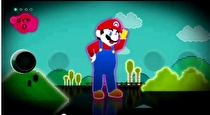 Just Dance Wii, the Japanese version of Ubisoft's Just Dance series, features a track called Just Mario, featuring a dancing Mario and many of his games' locales.
The full name of the track is Ubisoft Meets Nintendo: Just Mario. The on-screen dancer dons a Mario costume, and the backgrounds are taken primary from Worlds 1-1 and 1-2 of Super Mario Bros. The track itself is a remix of Mario's many themes, including the above ground theme, underground theme and Starman theme.
Just Dance Wii was published in Japan by Nintendo in collaboration with Ubisoft, the creators of the franchise. A video of the whole performance can be seen here.