Developer Gaijin Games' Alex Neuse loves the Wii, but Runner 2 is too much for the little system.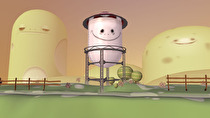 Bit.Trip Presents: Runner 2, Future Legend of Rhythm Alien, which was announced for Xbox Live Arcade and PSN last week, won't be hitting WiiWare because "the Wii cannot handle the game," according to Gaijin Games' Alex Neuse. However, Neuse did say that they are considering bringing Runner 2 to Wii U.
"If the console were able to hang with what we're going to be doing on the PS3 and 360, we would definitely be bringing it to the Wii as well," Neuse said to us via e-mail. "I mean, you know us; we love the Wii!"
To date, every one of Commander Video's adventures has come to Nintendo platforms, and the recent releases of Bit.Trip Saga (3DS) and Bit.Trip Complete (Wii) have given gamers two compilation packages to catch up on the 8-bit adventures.
Runner 2 is shedding the 8-bit aesthetic for a stylized HD look. The added horsepower required, for better or worse, makes it tough to make on Wii.
However, Neuse did tease something reassuring for Nintendo fans. "Now, we are considering Wii U, but we're not ready to officially announce anything yet."
Gaijin Games is moving on to the HD realm. Fortunately, Nintendo is also going there, too.
Check out the game's developer blog to follow the progress of Runner 2, which is set for a 2012 release on XBLA, PSN, and maybe Wii U.