Shin'en's excellent WiiWare platformer is coming to the 3DS.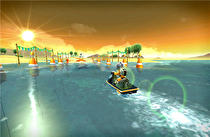 Shin'en Multimedia, known for its many WiiWare endeavours, as well as the upcoming Nano Assualt, has revealed that they are working on a 3DS sequel to their WiiWare platforming title Jett Rocket.
Not many details are available at the moment, but the studio hopes to share more information by the end of this month. What we do know is that the title is set to release on the Nintendo eShop and that feedback from the WiiWare game is being used to make the sequel even better.