The online first-person shooter for WiiWare may not arrive until 2012.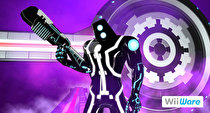 Sabarasa's first-person shooter Protocol will probably not be available for download on WiiWare until 2012. The developer's first WiiWare title, Horizon Riders, is set to be released on Thursday, and it sounds like that game's success may have an effect on Protocol.
In a recent interview, the CEO of Sabarasa, Javier Otaegui, told NWR, "we really need the people's support with Horizon Riders to help us finish Protocol. I would love to say that it will debut this year, but the most likely scenario is that it will slip to 2012."
Protocol is being designed to offer a robust multiplayer experience on WiiWare. The game will feature an art style influenced by the Tron films as well as four character classes, including sniper and heavy gunner. In addition, there will be four versus four online multiplayer where four friends will be able to play cooperatively on a single Wii.
Otaegui also revealed that a demo version of Horizon Riders, which supports both the Wii Balance Board and Wii Zapper for shooting mayhem, will be available for download on Thursday.
To read the full interview with Sabarasa's Javier Otaegui click here.