Neku and friends could be returning soon.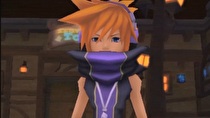 Neku's cameo in Kingdom Hearts Dream Drop Distance may indicate that a new World Ends With You game is in the works, series creator Tetsuya Nomura hinted in an interview with Famitsu.
Neku's recently revealed appearance in the game woke up suspicions that Square Enix may be trying to bring the series back after only one game on the DS. Series creator Tetsuya Nomura mentioned that his appearance should be taken as a hint that the series may see a revival, though he didn't specifically state if its a sequel or a different game.
The World Ends With You was originally released on the DS in 2008. The story has its characters playing a game of death in the district of Shibuya. It was well received by both games and the gaming media. In Kingdom Hearts Dream Drop Distance, Sora encounters Neku, and just like in the original game, Neku asks him to join in his game.