Sora and Riku's companions can now appear on the palm of your hand!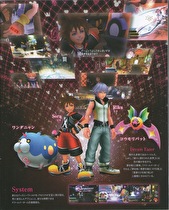 Kingdom Hearts 3D: Dream Drop Distance will feature Augmented Reality enhanced creatures. This was confirmed by the latest trailer from the 2011 Tokyo Game Show.
These creatures have been dubbed "Dream Eaters", and these are creatures that Sora and Riku can both fight as well as train and perform attacks with. Sora's Dream Eater is a dog-like creature, while Riku's Dream Eater is a multi-colored bat. They can link up for combo attacks.
Using the 3DS's camera, characters will appear to fly around live environments.
Kingdom Hearts Dream Drop Distance is scheduled to be released in Japan Spring of 2012.
TGS artwork scan courtesy of James Charlton