A cameo from Nomura's other RPG was spotted at Tokyo Game Show.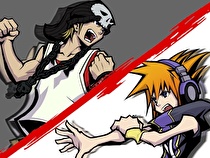 A character from The World Ends With You was spotted by SiliconEra in the Tokyo Game Show demo of Kingdom Hearts: Dream Drop Distance.
The character was Neku, the main character of The World Ends With You. This marks the first time a character from a non-Final Fantasy or Disney game makes an appearance in a Kingdom Hearts title.
In the demo, Sora spots the character hanging from the roof. He then asks Sora if he wants to play a game with him. Both Kingdom Hearts and The World Ends with You were designed by Tetsuya Nomura.
The World Ends With You was released on the DS in 2008.