Also: playable Lakitu and Metal Mario, gyroscope control, a first-person camera, and the Fire Flower.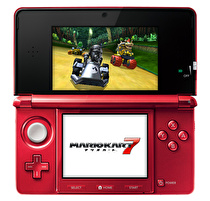 Mario Kart 7 will take advantage of the Nintendo 3DS's StreetPass feature for multiplayer gameplay, Nintendo revealed during their recent 3DS Press Conference. The Nintendo 3DS StreetPass feature will automatically exchange pre-recorded ghost data for players to race against with other Nintendo 3DS systems nearby. Players will then be able to use the data of the people they meet anonymously via StreetPass to identify those same players online for live multiplayer.
Nintendo also revealed that Mario Kart 7 would allow players to steer using the Nintendo 3DS's gyroscope. Paired with a new first-person camera perspective option, this is an entirely new way to experience the Mario Kart series.
Finally, Nintendo also used the conference to reveal two new characters for their light-hearted racer: Lakitu, in a cloud-themed kart, and Metal Mario, whose entire kart, including the tires, was metallic. The Fire Flower item was also revealed, allowing a racer to launch individual bouncing fireballs either forward or backward.