Bravely Default: Flying Fairy looks to be an all-new IP for Nintendo's 3D handheld.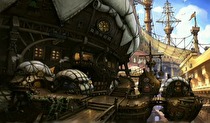 Bravely Default: Flying Fairy from Square Enix is the latest RPG announced for the Nintendo 3DS.
A brief announcement trailer shown during the Nintendo 3DS Confernece 2011 today featured a boy on a sailboat and a battle with a giant golem. Visually it featured elements reminiscent of both early Final Fantasy concept art, as well as the Dragon Quest universe.
Little detail on the game was offered, except that it will feature traditional Japanese RPG gameplay and some form of AR content. Square Enix will be giving out AR Cards for the game at TGS later this week.
Bravely Default: Flying Fairy is scheduled for a 2012 release.