Mario arrives on the 3DS this November and December.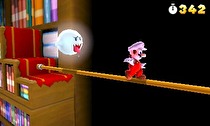 Super Mario 3D Land and and Mario Kart 7 for the 3DS have solid release dates in Japan, Satoru Iwata revealed at the 3DS Conference today.
Super Mario 3D Land will launch on November 3 and Mario Kart 7 will arrive on December 1. There is currently no official word on the specific release dates outside of Japan.