A most distinct spin-off is coming.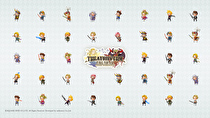 Square Enix opened up the official Japanese site of yet another Final Fantasy spin-off, Theatrhythm Final Fantasy, teasing FF and/or rhythm game fans today. Though several parts are still "coming soon," we can already see what the game is like.
Here is the prologue (translated by me), which may sound familiar, perhaps like a parody, to FF fans:
Cosmos and chaos—temporal intervals between the two divine pillars are called rhythm. Rhythm gave a birth to crystals ruling music, and the world was full of the glow of sounds. However, the harmony was disturbed by the force of chaos, and the crystals ruling music were losing their glow. To restore glow to the crystals, musical undulation "rhythpo" must be enhanced. Warriors led by crystals are starting their adventure to weave music...
This game features music of the main series (FF I to FF XIII). In this game, characters of the numbered titles reside in a single universe. Popular heroes and heroines, such as Lightning (FF XIII), Cecil (FF II/IV), or Tina/Terra (FF III/VI), form a party and venture together. Different art styles of the series are unified into a less serious, simpler, and pastel tone.
Theatrhythm Final Fantasy has at least three modes, one of which is still veiled. The first and seemingly main mode is called the "series" mode, where players choose one of the numbered Final Fantasy titles and play stages featuring its music. Each title offers three kinds of stages with moderately different game play.
- Event music stage: Against the backdrop of a cut scene in an original art style.
- Field music stage: Chocobo and Moogle support characters under a specific condition.
- Battle music stage: Battle against monsters from the franchise.
In all the three stages, while looking at diverse circles flowing on the upper screen from left to right, players touch the lower screen at the right time in different ways (tap, flick in a specified direction, hold, or drag), according to the type of circle.
Beating a title's stages in the "series" mode unlocks its music in the second "challenge" mode, where you can play the same tune in various difficulties.
Aside from the rhythm game play, some RPG elements, such as character development, are present in Theatrhythm Final Fantasy.
The website also includes special wallpapers, downloadable for free.
This game will be playable at TGS 2011. Don't miss our follow-up impressions!