More copies of the game are on the way this fall to resolve unexpected shortages.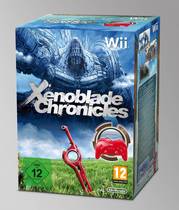 Nintendo UK are working on resolving the Xenoblade Chronicles stock shortage situation and will have more copies in stores this season.
Following reports online and from our readers that it is difficult to get hold of the game, and online stores including Amazon, Asda, GAME, and others listing the game as unavailable, it is thought that the shortages are caused by unexpected high demand.
Nintendo UK confirmed to us, "We are doing everything we can to get more stock of Xenoblade Chronicles into UK shops this autumn. We know how frustrating stock shortages can be for people, and we are disappointed when even one customer cannot get hold of one of our products."