Kunio-kun fans prepare!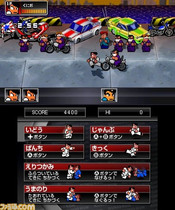 The Kunio-kun series, whose inaugural game Nekketsu Kōha Kunio-kun (revamped and released in North America as Renegade) was originally released in Japanese arcade 25 years ago, is coming to 3DS with a remake of the original game coming out this winter, according to Famitsu.
Some fans might be familiar with Renegade, but most gamers are likely more familiar with its sequels such as River City Ransom or Super Dodge Ball. The game was Technos' first Famicom port.
Looking at screenshots, the most noticeable difference from the original game lies in its art style, which looks quite different from the original one, but very faithful to that of the sequels. With the familiar cartoony sprites, the game offers at least 6 modes.
Campaign (or story mode): This mode seems to be the most substantial. The original plot — rescuing Kunio's kidnapped friend Hiroshi — is fleshed out with a newly added storyline supervised by the original director Yoshihisa Kisimoto, plus some RPG elements.
Arcade mode: This is a reproduction of the original arcade version of Nekketsu Kōha Kunio-kun, in the later cartoony sprites.
Mission mode: With local co-op.
Battle royal: Free-for-all of at most four (including players) characters.
StreetPass mode: one-on-one card battle.
Gallery: It displays packages, posters, illustrations, and other visuals of the franchise.
Nekketsu Kōha Kunio-kun Special will be playable at TGS 2011. Expect a follow-up impression!