The racing platformer from the creators of Trials HD has a release date and a new trailer.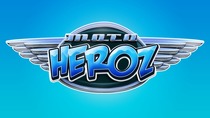 MotoHeroz will be available on WiiWare beginning on September 15 in both Europe and North America for 1500 Wii points, RedLynx announced today. In addition, a brand new trailer for the colorful racer was released.
MotoHeroz is a side-scrolling racer that combines the highflying gameplay of Trials HD with platforming elements and rally racing. Varied race environments include a ice, desert, and moon level. There will be over 100 tracks, online leaderboards, and a story mode. Up to four friends can compete locally in the Party Rally mode.
The game's new trailer is embedded below.